Dr Daniel Bothma
MBChB, MBA, PGDipDerm, MSDerm, FRACGP, FAID
-- Meet the Practice Principal
Dr Daniel Bothma is a specialist general practitioner and Fellow of the Australian Institute of Dermatology. Prior to the fellowship he obtained a Postgraduate Diploma in Dermatology and a Master of Science in Dermatology (both 'with Distinction') from the University of South Wales.
He graduated in Medicine at the University of Stellenbosch in South Africa, and then moved to the UK for basic specialist training in surgical specialities followed by advanced specialist training in emergency medicine. After a brief career as specialist emergency physician an increasing interest in skin conditions and skin cancers persuaded him to start postgraduate education in dermatology. He moved to Sydney when a leading skin cancer clinic group recruited him in 2014.
Dr Bothma trained with skin cancer experts, dermatologists, dermatopathologists, and plastic surgeons to gain expertise in clinical and cosmetic dermatology including advanced skin surgery (skin flaps, grafts). He is an accredited skin cancer expert with certification in primary skin cancer medicine, advanced certification in dermoscopy and a Diploma in skin cancer surgery. He is a certified Fellow of the Skin Cancer Institute, and holds membership of the International Society of Dermatology, the International Dermoscopy Society, and the IMCAS Academy.
Dr Bothma is the surgical lecturer on the Australian Institute of Dermatology Fellowship program, and has held clinical teaching positions at several internationally renowned universities. He has completed research comparing treatment modalities for photo-aging induced blemishes and presented at several dermatology and skin cancer conferences.
Daniel is highly skilled in skin cancer management including advanced skin surgery, with special interests in cosmetic dermatology, acne, rosacea, and rashes.
Outside of medicine Daniel is a keen but ordinary surfer and "boot-camp"-style fitness enthusiast, avid reader, and loves to explore the Sunshine Coast.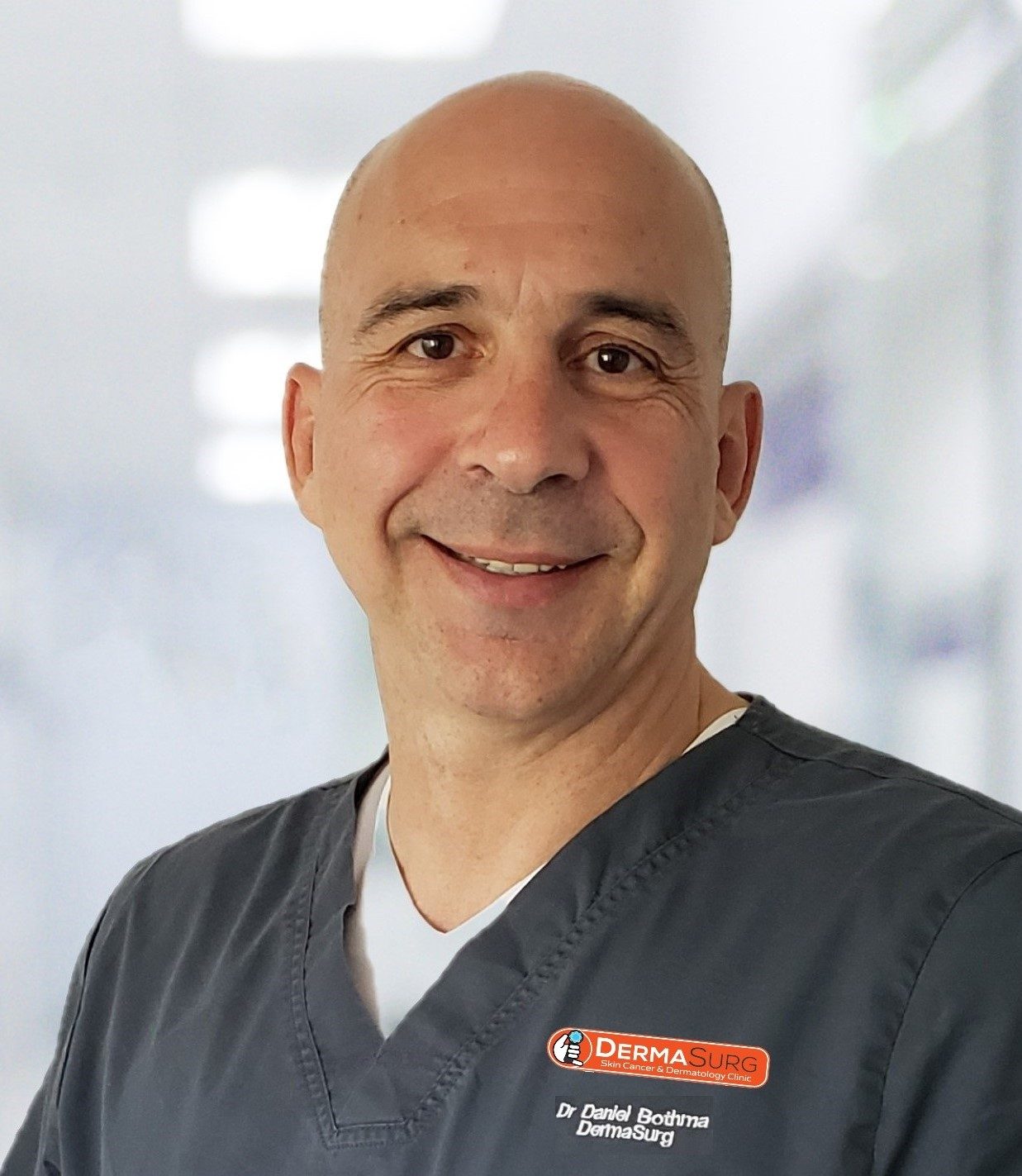 Fellowship of the Australian Institute of Dermatology guarantees expertise
A Fellow of the Australian Institute of Dermatology is a medical doctor who has undertaken at least three years of postgraduate training in diseases of the skin. Most Fellows completed training programs in other specialties such as emergency medicine or general practice prior to commencing postgraduate education in dermatology. The comprehensive training program covers all aspects of medical dermatology, dermatoscopy, dermatopathology, skin cancer, cosmetic dermatology, and procedural dermatology. On completion of the fellowship examination, trainees become 'Fellows' of the Australian Institute of Dermatology who practice dermatology with a highly sophisticated level of expertise.