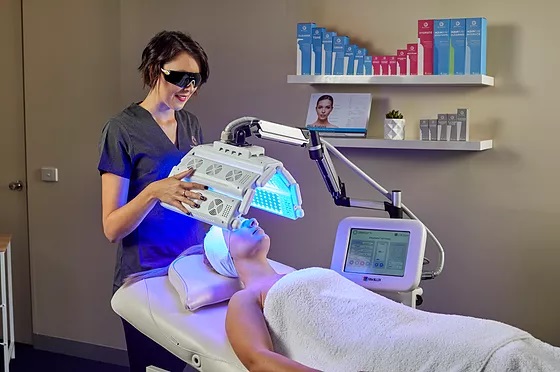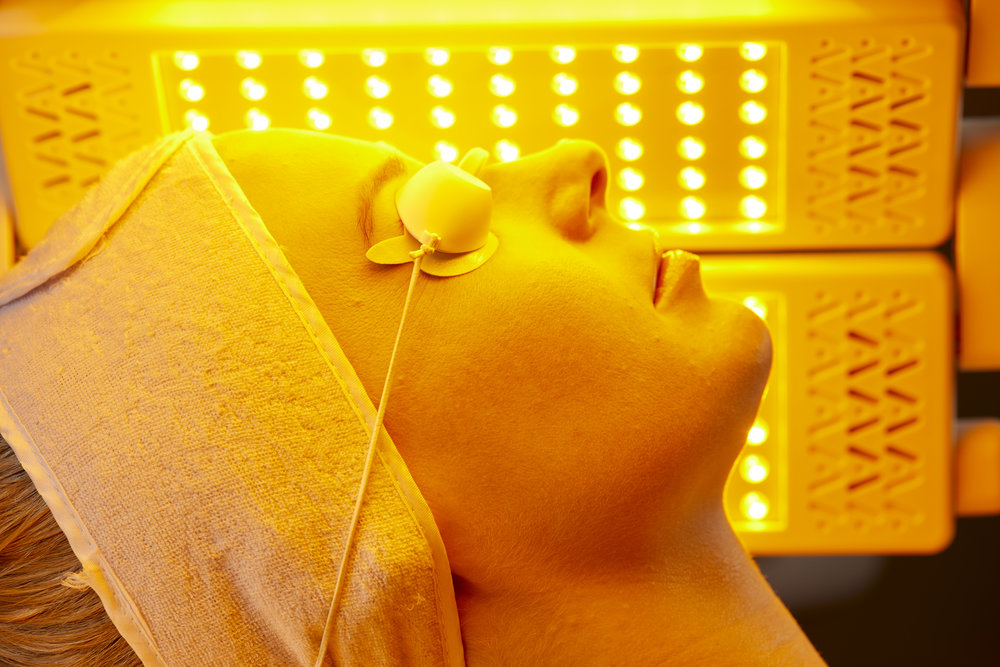 Phototherapy (LED Light therapy)
Phototherapy is a type of medical treatment that involves exposure to a light source like halogen lights, sunlight, and light emitting diodes (LEDs) to treat certain medical conditions.
Phototherapy uses nonthermal, non-invasive light to achieve a range of therapeutic outcomes. Modern advances have introduced light-emitting diodes (LED) which has led to clinical application for a variety of medical and cosmetic uses.
Phototherapy enhances and accelerates wound healing, decreases scar formation in surgical wounds, has demonstrated clinical benefit in the treatment of psoriasis (including plaque and guttate variants), and is an effective treatment in acne and rosacea. It may help for some forms of vitiligo although the response is variable and take many treatments may be needed.
It is also a very effective method to improve the cosmetic appearance of mild to severe sun damaged, oily, blemished, and aged skin on all areas of the body.
DermaSurg introduced MediLUX LED phototherapy technology in 2021. MediLUX incorporates 5 different treatment wavelengths (blue, green, yellow, red, and near infrared) for a wide range of treatment objectives.
Photodynamic Therapy (PDT)
Photodynamic therapy (PDT) is a medical treatment that utilizes a special "photosensitizing drug" (that becomes activated by light exposure) and a light source to activate the administered drug. PDT is a non-invasive treatment modality for solar precancerous skin damage (actinic keratoses) and some early superficial forms of skin cancers, including superficial basal cell cancer, and in-situ (intraepidermal) squamous cell cancer. It is an evidence-based alternative to cryotherapy, surgery and superficial radiation therapy for these forms of non-melanoma skin cancer.
Acne, rosacea, sun damage, enlarged sebaceous glands, wrinkles, warts, hidradenitis suppurativa, psoriasis, and many other skin conditions can also be treated effectively with PDT, resulting in long periods of clear skin.
The procedure is easily performed in a doctor's clinic as an outpatient. This treatment works well and has few long-term side effects.
PDT essentially has three steps. First, a light-sensitizing liquid or cream (photosensitizer) is applied to the targeted treatment area. Occasionally, a photosensitizing molecule that is already part of the body can be activated. Second, there is an incubation period of minutes to days (usually the incubation time is just over an hour long). Finally, the target tissue is then exposed to a specific wavelength of light that then activates the photosensitizing medication. The most frequently used frequencies are blue (415nm) and red (633 nm). The mechanism by which tissue is destroyed seems to depend on the presence of activated oxygen molecules.
Steps:
application of photosensitizer drug (most commonly applied as a cream containing 5–aminolevulinic acid [5–ALA] or methyl aminolevulinate [Metvix®])
incubation period (usually just over an hour)
light activation (blue or red light frequencies)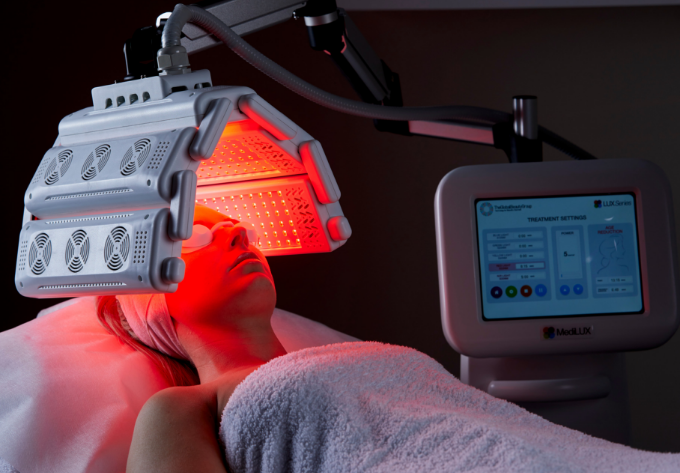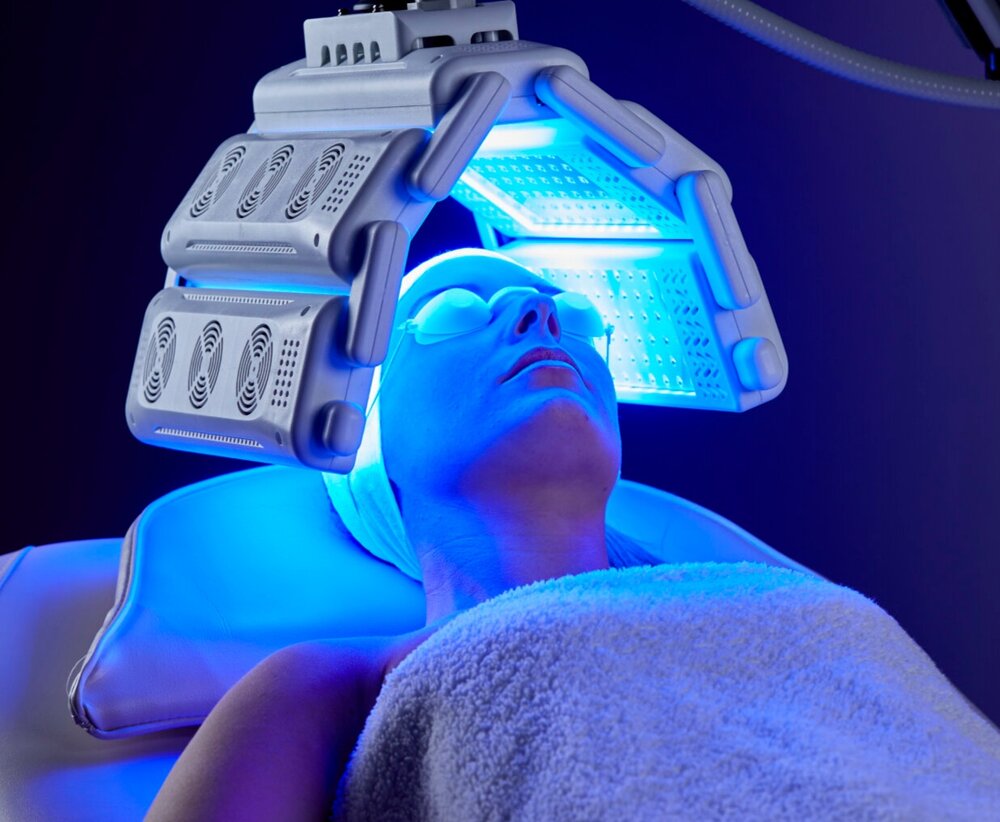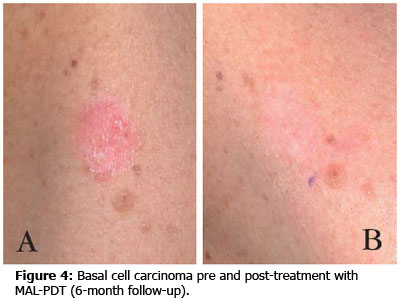 PDT for Acne
PDT can be a very effective treatment option for some forms of acne and may lead to long periods with almost complete acne clearance, without the potential side effects of antibiotics and isotretinoin (Oratane, Accutane, Roaccutane). It is indicated for moderate forms of acne with inflammatory lesions (red with small pustules), and a series of treatment sessions is suggested.
It is important to be aware that the first 1-2 sessions may cause a temporary flare-up for a few days, yet the resulting improvement in acne is fairly rapid for most patients. Often the results are long-lasting, and extra sessions can be scheduled a few months later if needed.
PDT for early skin cancers
Superficial Basal Cell carcinomas and Squamous Cell Carcinoma in-situ (IEC or Bowen's disease) can be treated very effectively using PDT. A biopsy (or results from a previous biopsy) is required to confirm the cancer is only superficial (deeper cancers do not respond adequately to the treatment and usually require surgery). The expected complete response rate is up to 97% after 12 months, and 81.8% after four years follow-up, which compares with 95% long term cure rates with surgery.
Severe sun damage scalp before and after PDT